roy murdock

[blog index] [photo index] [random post] [about] [quotes] [other]
---
What Purpose do Hedge Funds Serve?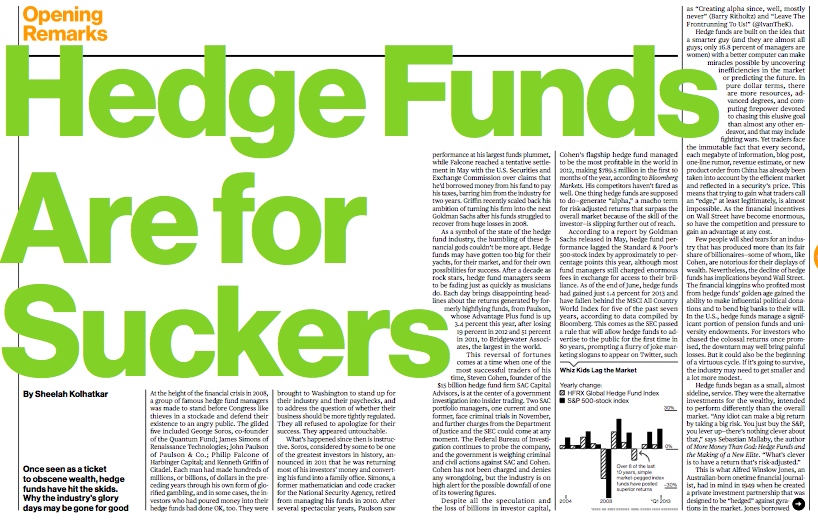 Yesterday, I came across this article on a new hedge fund concept: browse advice given by junior hedge fund managers for free, and if you invest (and make money, presumably) based on good advice, you have the option to tip the winning manager an amount at your discretion. The company, Instavest is backed by Y-Combinator, one of the largest and most successful startup accelerators in Silicon Valley. Instavest's tagline promises the following: "Earn Profits. No Guesswork. Hassle Free." Sign me up. Who couldn't use some hassle and guess-work free profits, especially in the murky world of high-risk, high-opacity, super-leveraged derivates trading.
The author argues that a new tips-based hedge fund format will help combat one of the less attractive attributes of the average hedge fund: a typical fund charges a commission of 2% of the total amount of managed cash, along with a hefty 20% cut of any earnings realized on managed assets.
Now, this wouldn't be too much of a problem if the average hedge fund was able to earn positive returns above that baseline 2% fee they charge for the privilege of playing with investor's money. Unfortunately, the average hedge fund has severly underperformed the passive, "free" strategy of investing in the market (or a portfolio of safe ETF/index funds that track the overall market closely) since the financial crisis.1 Essentially, investors are paying hedge funds to expose their assets to unorthodox strategies that lose money relative to safe, market-tracking portfolios that any basic investor can put together, beer in hand, in 30 minutes.
And yet, hedge funds are only gaining in popularity.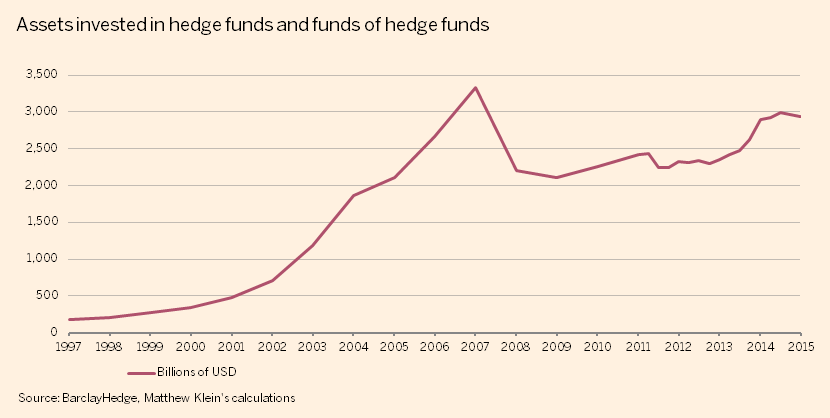 I met a guy over the weekend who works at a hedge fund in Cambridge. I figured if anyone could tell me what hedge funds are all about, it would be him. So I asked him the following question:
Why do people still pay to lose money in hedge funds?
He told me (half-jokingly) that his hedge fund survives on institutional investments and that most of their clients don't really care as long as his fund "doesn't lose too much money". So there was one part of my answer. Your average hedge-fund investor is an ultra-wealthy institutional client who needs to to reassure the board of [Private College], [Insurance Company], [Pension Fund] that a portion of the dragon's hoarde of treasures is being looked after by some smart, old guy.
Still, that doesn't sit perfectly well with me. I think there's a bit more to the hedge fund craze.